Why Dove's "Real Beauty Sketches" Video Makes Me...
jazzylittledrops: So this video started going around my facebook today, with about a dozen of my female friends sharing the link with comments like, and "Everyone needs to see this", and "All girls should watch this," and "This made me cry." And I'm not trying to shame those girls! I definitely understand why they would do so. And I don't want to be a killjoy. But as I clicked the link and...
Dear Mr. Tronaut: The Definition of a Child →
tronaut: A child is a mechanical or virtual intelligent agent that can perform tasks automatically or with guidance, typically by remote control. In practice a child is usually an electro-mechanical machine that is guided by computer and electronic programming. Children can be autonomous,…
1 tag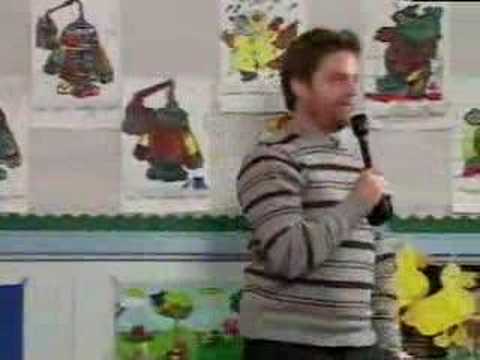 http://www.missmoss.co.za/2011/03/08/don-draper-dis... →
Girl controls tv with pinecones! →
This would be so cool to have in classrooms, museums, homes…
Watch
emily-m: arielk: My friend Lindsey and I have been making puppet shows for a while now with paper cut out shadow puppets and overhead projectors.  A few weeks ago she bought an old school video projector that sits on top of an overhead projector.  We realized we could take the traditional shadow puppets and use a video background.  This is a video of us performing it.  I think it came out sort...
A more sophisticated version of my favorite... →
What English Sounds like to Foreigners →
1 tag
Five Things
Winter Quarter 2010 Week 1 One class in Lillis- finally a good reason to leave Lawrence! Modern dance class on Tuesday and Thursday mornings-the instructor plays the best music. Lunch crew!  Crossing studio lines Gluten-free desserts at Sweet Life Bakery Coming home after a long day to find the entire house clean and all the laundry done.  Then David took me out to dinner!  I am a lucky girl.
Come to my crafty booth this Sunday!! →
Five Things
Five things in Portland I am grateful for: Karaoke places to crash Petite Provence It's just as great when rainy …maybe better endless choices of gluten-free food
1 tag
Five Things
I will not let my studenthood prevent me from posting five things I am grateful for on a regular basis! School: the people.  Sometimes I feel like we're one big happy family.  I'm not even exaggerating.  Thinking about my entire class gives me a warm and fuzzy feeling. Beautiful day at the coast for a field trip The lovely hydrangea plant David brought for my studio space Finding...
Five Things
Sleeping in.  Late.  Probably for the last time in a while. David picking some plums that I couldn't reach.  Made for a tasty fruit crisp! My fellow student Sherri's potluck-great food and catching up with friends My new rotary cutter!  I sprung for the ergonomic model-well worth it and it is useful for so many projects (soon to come!) Listening to a CD of live recordings of my...